We run our own FTP Server (File Transfer Protocol) with multiple
methods of connecting and transferring.
IMPORTANT: Please contact your Covington Group representative after uploading files to ensure your project receives the proper attention.
---
Option 1:
If you are already familiar with FTP software such as; Fetch, FileZilla, WS_FTP, Cyber Duck, SmartFTP, etc., you need only the following settings:
HOST: 162.221.242.90
USER NAME: download
PASSWORD: ftp
This is a generic account level. Call or email if you prefer a unique account.
---
Option 2:
We also offer an option if the two previous methods fail: www.covingtongroup.net/ftp
This is a Java Applet option that should automatically connect and usually bypasses any firewall or security issues.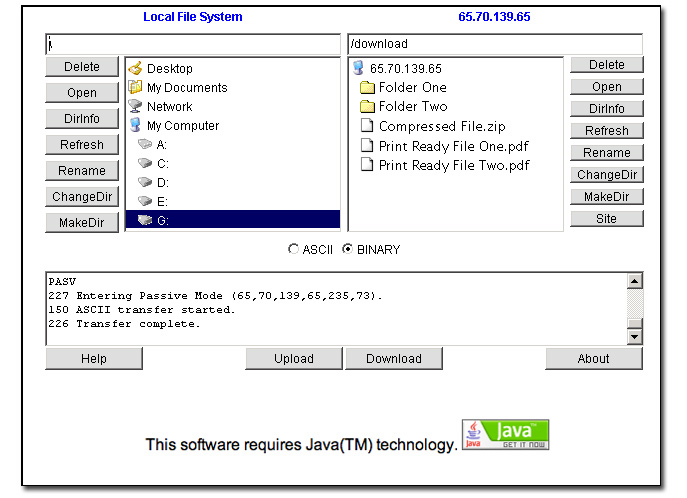 Window on left represents your local system and the window on right is our FTP Server. Navigate your local system to find the file(s). Highlight or select the files and select "Upload" at the bottom.
If you experience any problems, please don't hesitate to contact us!
---
Option 3:
We can accept your invitation via dropbox.com, hightail.com or any other large data transfer site.